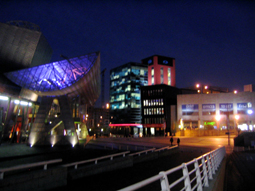 CITY PORTRAITS
akustische portraits von europäischen städten.
vorgehen: komme am bahnhof oder am flughafen an, eile zum tourist inform center und hole mir einen stadtplan.
lasse mir die sehenswürdigkeiten zeigen, mache eine rundfahrt. dann gehts los mit offenen ohren, mit mic und
aufnahmegerät, die alle geräusche und klänge während drei tagen aufzeichnen.
wieder zu hause werden die aufnahmen auf den computer überspielt, modifiziert und in klangcollagen arrangiert.
diese portraits erheben keinerlei anspruch auf repräsentation der stadt, sind viel mehr ganz persönliche eindrücke.
das projekt wird unterstützt vom popkredit der stadt zürich, diversen airlines und privaten sponsorInnen.

acoustic portraits of european cities.
procedure: i arrive at the station or airport, get a city map at the tourist inform centre, let someone show me the
most frequented sights and start recording all the rumors and sounds on my way during the 3 days in town.
at home the sounds are played on the computer, modified and arranged in soundcollages.
the portraits are not meant to be truly representative of the town but are a very personal impression.
the project is kindly supported by the town of zurich, airlines and private sponsoring.
a thousand thanks go to:





casinelli vogel stiftung
architekturforum zürich
unit records
astrid wymann, alois carnier, mehmed asal, diego tonolla, marianne kipp, magda vogel, christian lisseman, christin gerber...
musikalische kostproben (1 minute mp3)
extracts of the arrangements (1 minute mp3)

amsterdam

manchester

hamburg

rom

tallin

warschau

odessa

zürich

die cd ist 2012 bei unit records erschienen.
cd release by unit records 2012.
order / bestellen per email